Can I analyze the number of services around my location? Can I see how many healthcare services there are around my location within a 20 minutes bike catchment?
Yes, you can. There is an extensive list of Points of Interest (POI) categories you can choose from. Here is how to include them in your analysis:
Click on the location that you would like to analyze to access the Absolute Results view
Click on the Settings button on the top, or the Add more catchment configurations button at the bottom of the left bar.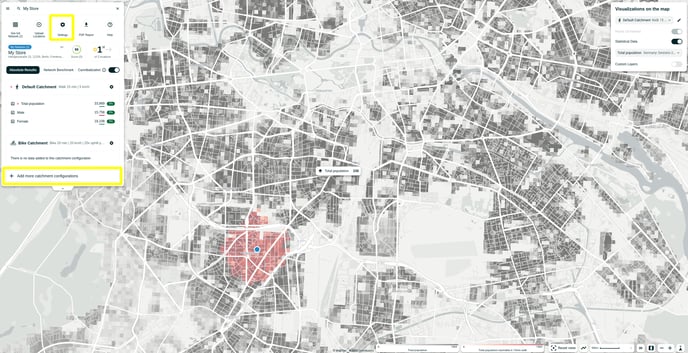 Once you click one of the aforementioned buttons, the settings page will appear. Here you will see your active catchment configurations on the left-hand side.
Click the Points of Interest button under the catchment that is configured to 20 minutes bike.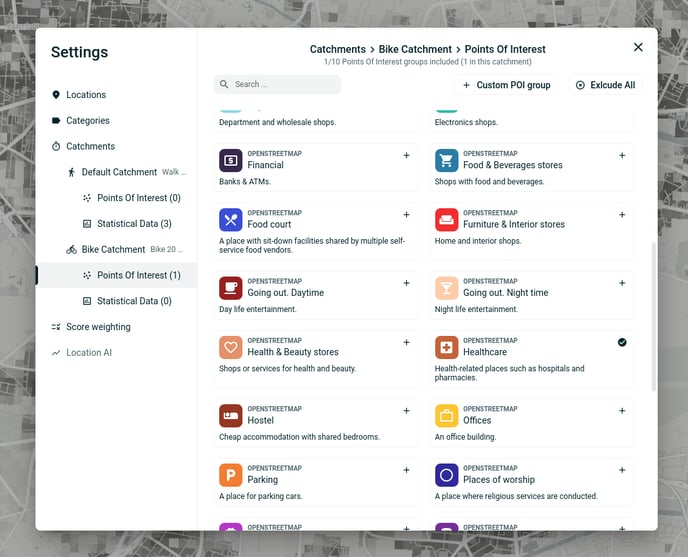 Click on the + sign on the healthcare and pharmacies cards to add these POI categories to the catchment
If you'd like to remove a category from the Included list, hover over the circle with the Checked sign and then click the X-sign that appears.
For Pro and Enterprise customers:
If you want to exclude a custom POI group from the Included list, hover on the circle with the Checked sign and then click on the X-sign that appears.
By clicking on Delete of a customer category that is shown in the Included list, the category is no longer available. You need to re-create the category, using the POI custom group button