Follow these four steps – from adding a location to selecting data – to analyze your locations.
1 - Add a location
Type an address in the top left field. Or zoom in on the map, click on it and choose Analyse.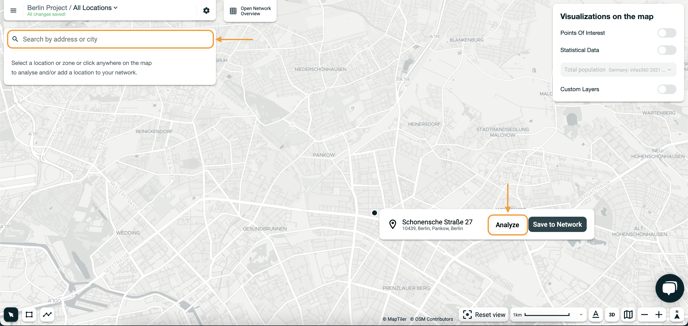 ---
2 - Select data
Click the Wheel icon behind "Default Catchment" to open the settings menu and select Statistical Data.
In the pop up menu, click on any of the + signs to add that data variable, or click the expand arrow to individually select data items.
Select up to three data variables at once.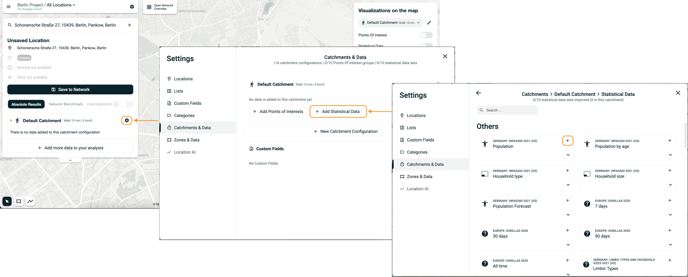 ---
3 – Visualise data set
Click on "Show on map" when hovering over any of the rows in the table on the left to display that particular statistic on the map.
If no data is displayed, make sure to toggle "Statistical Data" in the top right menu to ON.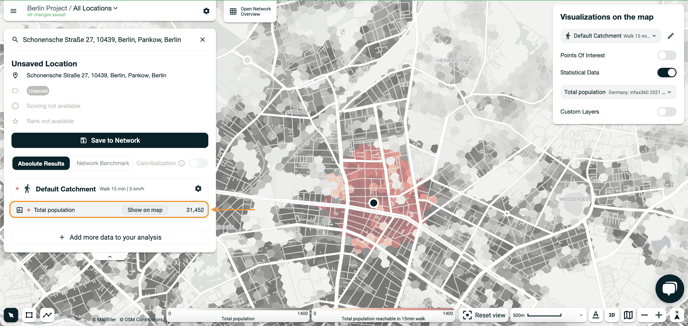 ---
4 – Change travel mode
Change the current catchment setting by clicking on the edit icon (pencil) next to the catchment name in the top right box called "Visualisations on the map".
Add a new catchment by clicking on the drop-down menu in that same box and selecting "New Catchment".