Can I see services around my location? Healthcare services? and pharmacies?
Yes, you can. There is an extensive list of Points of Interest (POI) categories you can choose from. Here it is how to include them:
View a single location and click the Wheel icon behind the catchment mode you'd like to change.

In the pop-up menu, click Points of Interest, and select up to 10 POIs by clicking on the + signs.

If you'd like to remove

a category from the Included list, hover over the circle with the Checked sign (the V) and then click the Minus-sign that appears.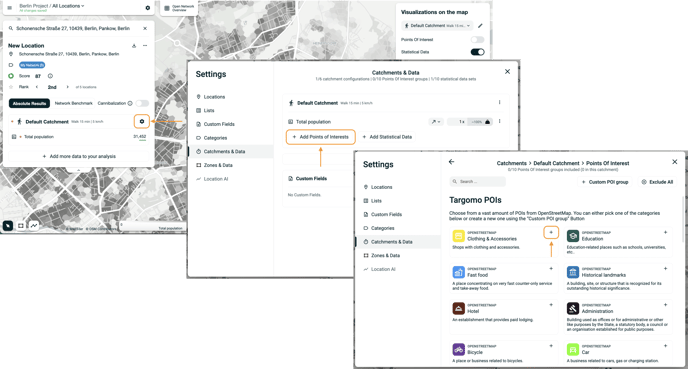 Visualise POIs on the map
Make sure to switch the Points of Interest toggle to ON in the top right corner, and toggle OFF Statistical Data for a better visualisation

In that same box, click on the eye icon behind any POI to show or hide that specific POI on the map

On the map, hover over any dot to see that POI's name and category